Grace and peace to you and welcome to the Denison First UMC web page.
You are probably wondering <![if !vml]>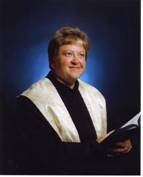 <![endif]>about me, so let me tell you a bit about myself.
I was born and raised near Centerville, Iowa in south central Iowa where
over the years my parents have given me the greatest gift a person could
ever need or want – the gift of knowing God.
Church has always been a major part of my life, but ministry was never a
thought, especially Pastoral Ministry. In 1984 I began my college career at
Indian Hills Community Junior College where I graduated with a degree in
Associate of Arts. In 1986 I attended night classes at Indian Hills
Community College through the Buena Vista College. I graduated from
Buena Vista in 1986 with a degree in Elementary Education. During the day when I wasn't studying, I spent my time as the Assistant Director of a small private Day Care.
I spent the next two years applying for jobs, then in 1992, traveled to Saint Paul School of Theology in Kansas City, Missouri after I heard God calling me into a different area of work.
God was calling me into pastoral ministry, but I wasn't ready so I bargained with God. I agreed to go into ministry, but only as a Christian Educator. God had other plans. In the spring of my first year of seminary, I surrendered to God's call of Pastoral ministry. In 1996, I graduated with a Master of Divinity with a specialization in Christian Religious Education.
Following graduation I moved to Earlham, Iowa where I served three congregations – Earlham-Worthington-Penn Center Charge – for seven years. Now God has called me to serve here in Denison. I look forward to all the wonderful things that God has planned for us to do as we continue to serve God here and around the world.